Join the Netball Whānau
Do you want to:
Give back to your local community and make a difference?
Belong to something and feel valued?
Socialise with others and make new friends?
Have fun and gain some new skills?
Share your knowledge to enable others to have a great experience?
Support your kids?
Just have more Netball in your life?
f the answer is YES to any of the above, come and join the Netball whānau!
Many volunteers choose to coach, manage or umpire for a Club or School Team. There are also of volunteers that develop the skills of our coaches and umpires. Other volunteers get involved in running Netball by working in administrative or governance roles within Centres. Volunteers can also be part of specific project or helping out with one-off events or tournaments.
We've created a form below that will put you in touch with your local Netball Centre to find out how you can make a difference in your community. You will be able to share how you think you might be able to help and what skills you bring. We encourage these roles to be flexible so you can volunteer in your own way at a time that suits you.
To be connected to your local Centre, click here
---
Cadbury Volunteer of the Year Awards
Nominations for the 2023 Cadbury Volunteer of the Year Awards have now closed as of Sun, 24 Sept 2023.
Netball New Zealand and Cadbury, our Official Volunteer Partner, are pleased to be acknowledging the very best of our Community Netball volunteers.
There are five categories a volunteer can be nominated for:
Volunteer Coach of the Year
Volunteer Official of the Year
Volunteer Administrator of the Year
Youth Volunteer of the Year
Community Volunteer Champion of the Year
The full 'Category Descriptions & Judging Criteria' (including the definition of a volunteer and the age limits for the youth category) can be found here.
The Cadbury Volunteer of the Year Award Winners will be announced at the 2023 Netball in New Zealand Awards.
If you have any questions about these awards, please email This email address is being protected from spambots. You need JavaScript enabled to view it.
Cadbury Volunteer of the Month
The Cadbury Volunteer of the Month (VOM) Awards are now closed for 2023. Entries are open over the playing season from May- August and will open again next year in 2024.
The Cadbury Volunteer of the Month Awards encourage our local communities to nominate their netball volunteers to be in to win a Cadbury Hamper from their Centre. These awards aim to acknowledge and thank volunteers for their support, time and effort they put into running and organising community Netball. All 83 Centres across New Zealand are eligible and can give out up to one hamper per month, per Centre.
If you have any questions about VOM, please email Jenna at This email address is being protected from spambots. You need JavaScript enabled to view it.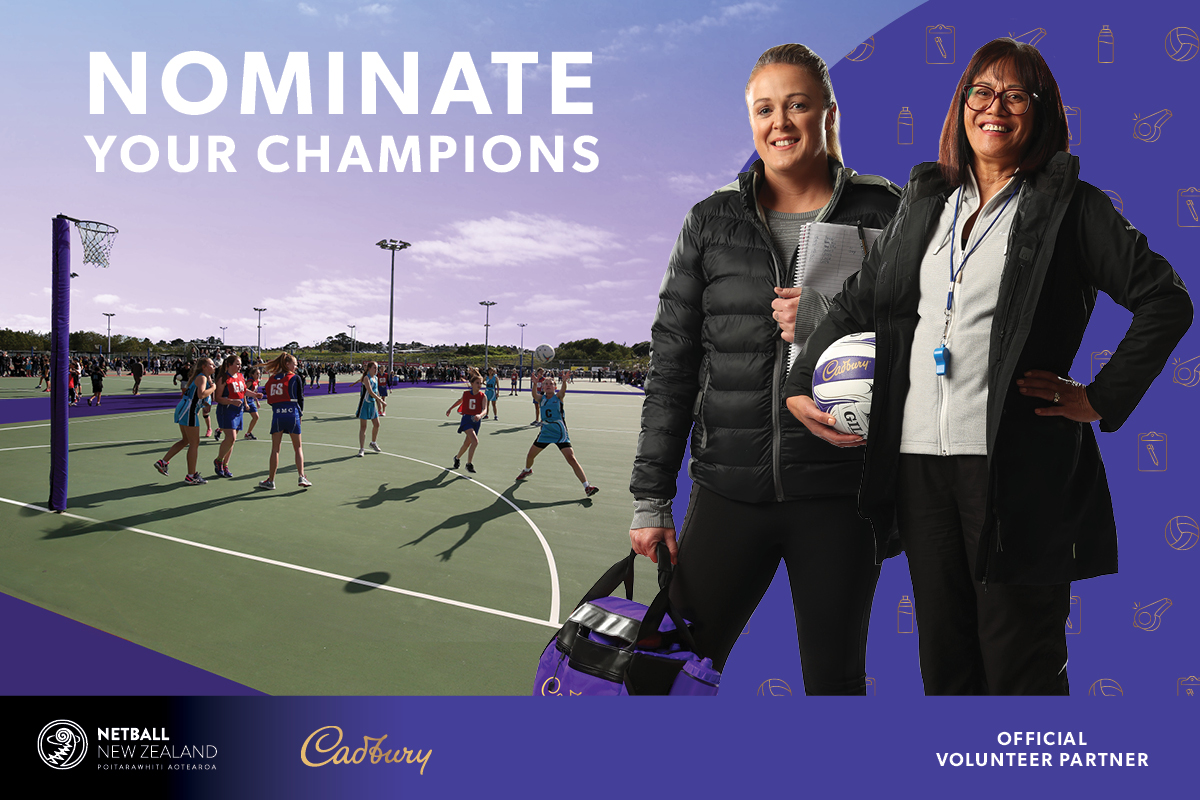 ---
Cadbury Volunteer of the Year Awards 2022
The Cadbury Volunteer of the Year Awards for 2022 have now been awarded.
There are five categories a volunteer can be nominated for. The full Category Descriptions & Judging Criteria can be found here.
Volunteer of the Year Awards – Winners (2022)
Administrator: Clare Malthus (South Zone)
Official: Ruth Robinson (Waikato-BOP Zone)
Coach: Andrea Cousins (Mainland Zone)
Youth: Alani and Samara McLeod (Waikato-BOP Zone)
Community Champion: Shanan Gray (Waikato-BOP Zone)
Highly commended (2022)
Official: Jodie Robertson (Central Zone)
Coach: Rachel Browne-Cole (Northern Zone)
Youth: Samuel Paton (South Zone)
Community Champion: Aroha Marsh (Central Zone)
For more details, you can read the full story here.
We would like to say a huge thank you to these recipients as well as our wider netball volunteer whanau. We appreciate each and every one of you and the role you play in facilitating the game.
---
Volunteer Strategy
Netball is an integral part of New Zealand's dynamic sporting culture. Existing in New Zealand for over 100 years, today Netball is one of New Zealand's favourite sports and is enjoyed by hundreds of thousands of people across the country. Netball New Zealand are pleased to present the Volunteer Strategy 2020-2022. This strategy document will outline our vision and strategic objectives. Each objective is broken down to outline, our goals, actions and what success will look like.
---
Volunteer Resources
Alongside Cadbury, Netball New Zealand has created a range of Volunteer resources to help you support and facilitate netball in our community. Some of the available resources include information about how to recruit volunteers, a volunteer culture check, inducting your volunteers, role descriptions including examples for you to use, the importance of a Volunteer Manager and support around how to safeguard children. There are more editable resources available on Netball New Zealand's Sport Tutor. These resources are being updated so be sure to check back soon for updates.
Click here for Volunteer Resource Library
---
---
Cadbury – Official Volunteer Partner
Netball New Zealand is delighted that Cadbury has come on board as our Official Volunteer Partner. Cadbury is super passionate about the powerful role that grass roots sports plays in our community and together we want to ensure that the future of Netball remains strong. Our partnership is built to recognise, reward, inspire and recruit new volunteers to our sport by shining a light on those netball volunteer champions who have helped build and nurture our netball communities and participants.
If you would like more information about the NNZ Volunteer Programme, please email This email address is being protected from spambots. You need JavaScript enabled to view it.